October Lifestyle Must-Haves and Foodie Finds
Disclosure: This post contains affiliate links. If you choose to click on a product link, I may receive monetary compensation. 
Can you believe it's November 2nd already? Fall is flying by, but yours truly is ready for the Christmas season. I have already started shopping and can't wait to put up all kinds of holiday content for you all!
Today is all about my October favorites, from what I was wearing on repeat to the food I will continue to repurchase. If you have anylifestyle favorites that are a must-try/must-buy, let me know in the comments!
What I Munched On
1. Skinny Pop Popcorn Mini Cakes in Cinnamon & Sugar
  
SkinnyPop Mini Popcorn Cakes, Cinnamon and Sugar, 5 Ounce

Oh my goodness, you guys. These changed the "rice cake" game. These are small enough to just pop in your mouth, and let me tell you, I popped through many bags this month. The cinnamon & sugar flavor is on point, without being overly sweet and I will admit to eating just the cinnamon sugar from the bottom of the bag. No shame. My one complaint about these, is that I tend to get the cinnamon in between my teeth. However, I am more than willing to engage in a mirror check post-popcorn cake indulgence in order to keep eating these.
2. Trader Joe's Sea Salt & Turbinado Sugar Dark Chocolate Almonds

When we lived in Massachusetts, I more regularly passed a Trader Joes and since moving to Virginia, I have to drive pretty far out of the way. Earlier this month, I decided to head out that way for other errands and could not resist picking these up! These are my all-time favorite chocolate almonds. Hands down, can never be replaced in my mind kind of deliciousness. Do yourselves a favor and haul booty to the nearest TJs to buy yourself this special treat.
And if you don't have a Trader Joe's near you, they can be purchased on Amazon here:
Trader Joe's Sea Salt & Turbinado Sugar Dark Chocolate Almonds 10 oz
3. Apple Crisp

I feel like pumpkin spice overshadows apple cinnamon a lot when it comes to fall baking! But the apple crisp I baked up earlier this month was amazing. The recipe is up on the blog here in case you also want an easy indulgence that makes you feel kind of healthy. Because its apples, right?

What I Wore
1. Lucky Brand Shirt

If you have seen by Roanoke Recap post, then you've seen this shirt. If you haven't, check out what you're missing here! I primarily shop at Marshalls/TJ Maxx and they have been killing it lately with the availability of Lucky Brand items. Almost any time I'm immediately drawn to an item on the rack, its this designer. This top is the perfect transitional piece and has the cutest buttons!
2. Lucky Brand Boots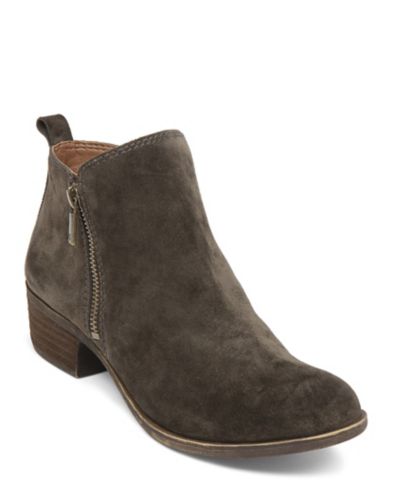 Now I think you may be noticing a theme. I actually purchased these boots last year, again from Marshalls, but have been wearing them on the days where temps dip below 75! Luckily, southern Virginia has answered many a prayer and we've had cooler weather the past few days. I just love the dark green color and suede is my jam. There is a tiny heel and the zipper detail on both sides of the ankle spices up an otherwise "ordinary" bootie. Love love love.
What I Couldn't Resist Buying
1. Makers of Wax Goods Candle

Earlier this month, I was strolling around my favorite place (which you can probably guess). I was just looking for a candle to replace my beloved apple butter candle that sadly ran out of wick, when I smelt this heavenly candle. It smells like the holidays and has one of the crackle wicks, you know the ones that sound like a fire when burning? So far, it is burning nicely and the scent fills the room. I may also be obsessed with the packaging and will be on the lookout for more scents. These would make an amazing holiday gift!
I feel like this scent would also smell delicious!
Makers of Wax Goods America Vanilla Coffee Scented Jar Candle
That wraps up my October favorites! Again, let me know any favorites that you had from this past month down below. And let me know what you are most looking forward to in November 😊
---
---